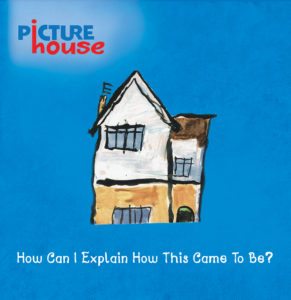 PictureHouse, one of Ireland's most loved bands has today announced details of a compilation of some of the band's favourite tracks spanning the period around their first two albums.
Having freed themselves from one record label in 1995 and eventually signing with a major label for their first two albums, the band became live favourites around Europe supporting the likes of Meatloaf, The Corrs, Mel C, Runrig, Bon Jovi, The Saw Doctors, countless festivals, their own legendary tours (one in particular started as a 6 day tour of Scandinavia that literally snowballed into a 9 month long odyssey around Europe) saw the band collect hordes of followers. Their policy of playing anywhere to anyone meant they played in front of a million people in 1998. Both albums went top 10 in Ireland, and Sunburst was the most played song on Irish radio as well as being used on a national TV ad and in the soundtrack to film.
Entitled "How Can I Explain How This Came To Be?" – the first line from their first single, which was also the first track of their first album and also track one of this record the album will be available on vinyl (with accompanying CD which will include their other hit singles).
Featuring the smash hit "Sunburst" which has been remastered and re-released to coincide with the album, the record also features live favourites "Fear of Flying", "You and I", "Raining Stones"," Jade", "Somebody Somewhere" as well as previously unheard tracks "Not Built To Last", "Roll Over" and next single "Cup of Life".
The band are celebrating the 21 years since Shine Box this year with celebrations culminating with a show in Dublin's National Concert Hall on September 13th.
Order your copy now from www.picturehouse.ie/preorder